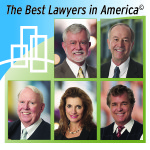 Best Lawyers© is a peer-reviewed publication listing the most respected legal professionals from more than 70 countries around the globe. This year, Walsh, Colucci, Lubeley & Walsh is ranked nationally in the top tier for Land Use & Zoning and in the metro Washington, D.C., area for Land Use & Zoning Law, Litigation–Land Use & Zoning, Litigation–Municipal, Municipal Law, and Real Estate Law. In addition, five shareholders were recognized as 2016 Best Lawyers in America©. Two of the five shareholders were named Lawyer of the Year: John Foote for Land Use and Zoning Litigation, and Mike Lubeley for Land Use and Zoning Law. John and Mike are joined by Art Walsh, Nan Walsh, and Garth Wainman as Best Lawyers.
The shareholders, associates, and staff at Walsh, Colucci, Lubeley & Walsh are aware of how John, Mike, Art, Nan, and Garth have contributed to make the firm one of the best in Northern Virginia. Here's a bit of trivia about each of these 2016 Best Lawyers in America that you might not know.
Claiming he holds the distinction as the firm shareholder who speaks the best conversational French, John has been with the firm for more than 16 years. When he isn't writing articles for Land Sense, the firm's newsletter, John and his wife Rose take bicycle trips to far-off places. They have cycled around South Africa, Ireland, Italy, and France (with the Tour de France nonetheless!). Born in Birmingham, Alabama, John attended Louisiana State University where he double majored in history and philosophy and was elected President of the LSU Student Union. He went on to Officers Candidate School and became, in his words, "the most lackluster infantry officer the United States Army ever sent to war." What he may not have accomplished on the battlefield he later made up for in law school and his legal career. John had the great pleasure of working at the White House and has sat in the Cabinet Room with President Gerald Ford. After his time at the White House, former Senator Charles Goodell, his White House boss and friend, moved John's admission to the U.S. Supreme Court. And, the rest they say, est l'histoire. John served as Prince William County Attorney and has been in private practice for the past 26 years. John has been recognized in The Best Lawyers in America since 1999 for Land Use and Zoning Law, Litigation–Land Use and Zoning, Litigation–Municipal Law, and Real Estate Law.
Mike joined the firm's land use and zoning practice in 1982 and quickly became the attorney to call in Prince William and Stafford Counties for rezoning and litigation. Mike was used to getting calls, except they were typically of the balls-and-strikes variety. At Bishop O'Connell High School in Arlington, he was, unfortunately, the starting pitcher in a game that ended the team's 42-game winning streak—at the time, the longest winning streak for a high school team. Reportedly, the plaque commemorating this feat can still be found in the Baseball Hall of Fame in Cooperstown. His winning streak didn't end there though. Mike attended the College of William & Mary and the Marshall-Wythe School of Law. After graduating, he teamed up with another member of the tribe  and that's how the name Lubeley came to be painted on our office doors. Here are two more bits of trivia about Mike. His favorite charity is Catholic Charities and last year George Mason University's Center for Real Estate Entrepreneurship appointed him to the Board. In addition to being named Lawyer of the Year, Mike was also recognized in The Best Lawyers in America for Land Use and Zoning Law, Litigation–Land Use and Zoning, Litigation–Real Estate, and Real Estate Law.
Consistently recognized throughout his career as one of the area's top lawyers and legal elites, Art is the firm's founding shareholder. He has been instrumental in achieving approvals for redevelopment in Arlington and Fairfax Counties representing numerous clients in the rezoning and planning along the Dulles Airport corridor and the newly constructed Silver Line in Tysons, as well as handling a number of condemnation cases for the HOT Lanes construction on I-495. Just after graduating from The College of William & Mary, Art joined the Army and went through Officer Basic Training with tennis great Arthur Ashe. Arthur gave a tennis clinic but time was a precious commodity and back then squeezing in a round of golf was (and still is) Art's priority. Needless to say they both went on to achieve great things—Arthur on the tennis court and Art in the law. Art went back to William & Mary for law school and since then has lectured on zoning, land use, and commercial real estate at the Marshall-Wythe School of Law. This past February, he was awarded the school's prestigious Alumni Medallion. Art is also known for his charitable contributions, raising more than $1.6 million over the past 16 years for the Juvenile Diabetes Research Foundation. 2016 marks the 20th year Art has been listed in The Best Lawyers in America for Land Use and Zoning Law and Real Estate Law.
Setting and reaching goals comes naturally to Nan, the firm's managing shareholder. In college she played three varsity sports (soccer, ice hockey, and track), majored in math and wrote her final thesis on electromagnetic wave motion. Between college and law school, Nan worked at the Environmental Protection Agency and continued to focus on long-distance running, which culminated in a personal record of three hours, three minutes at the Mardi Gras Marathon. It comes as no surprise then that Nan runs the walk (pun intended) and talks the talk—hard work equals achieving goals. Asked to explain the firm's success in a recent Wall Street Journal article, she had this to say: "At the end of the day, our responsibility is to get the job done. We help our clients cross the finish line." No argument here. And no argument that Nan is the firm's best athlete. She made The Best Lawyers in America 2016 list for her contribution to Land Use and Zoning Law.
After graduating from Trinity College, playing Division III hoops and keyboards in a coffeehouse band, Garth quickly realized that no one was going to pay him to play basketball or music for a living. He took a job selling Pringles for Procter & Gamble all over New England. A year into the job, P&G offered him a management position, which he turned down and set his sights on law school. Inspired by Perry Mason reruns, he pursued a legal career in litigation and business. This diehard Boston Red Sox fan crossed the Mason-Dixon Line and settled in Northern Virginia attending American University School of Law in Washington, D.C. His decision to pass on the Pringles paid off. These days, his heart, home, family and practice are here in Northern Virginia. Although Garth prefers lobstering and fishing off the Keys to Cape Cod, he has cheerfully adopted the Washington Nationals as his "second home team." Garth was selected by his peers for inclusion in The Best Lawyer in Americas 2016 for Commercial Litigation.
Congratulations to John, Mike, Art, Nan, and Garth on your selection to the The Best Lawyers in America 2016.