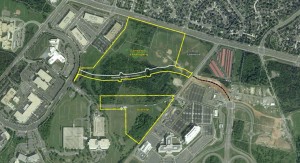 On October 20, the Fairfax County Board of Supervisors approved a partial proffered condition amendment to allow for the completion of a residential community known as Timber Ridge at Discovery Square west of Centreville Road and south of McLearen Road in the Sully Magisterial District.  
In 2007, the 67-acre property was approved for approximately 1,200 multifamily dwelling units, 640,600 square feet of office space, and 107,350 square feet of retail. Due to the decline in the residential real estate market, however, the residential portion of the property was not marketable as originally approved. Between 2011 and 2012, a 37-acre portion of the property was purchased at auction and the original approval was modified to reduce the number of residential units to 805 and include a townhouse component. As part of that original phase of development, PHD Associates, LLC, constructed Sully Highlands Park, an approximately 17-acre field complex comprised of five lighted fields that has since been dedicated to the Fairfax County Park Authority. PHD Associates further completed a number of significant transportation improvements, including a north-south connector identified as Air and Space Museum Parkway.
Building on the success of the initial phase, PHD Associates pursued adoption of a Comprehensive Plan amendment to allow for the construction of 150 townhouses in lieu of the originally planned 600,000 square feet of office space on the 19-acre western portion of the site. The October 20 approval will allow for the implementation of this Comprehensive Plan amendment. As part of the approval, PHD Associates will dedicate approximately five acres to Fairfax County to allow for a future community facility and construct 16 three-bedroom townhouses as for-sale affordable housing to fulfill a vital need for family-sized affordable housing units.