The Town of Leesburg adopted the Crescent Design District as part of the Zoning Ordinance on January 7, 2013. The goal of the Crescent Design District is to achieve a more urban style of development reminiscent of historic downtown Leesburg in the part of town located adjacent to the historic downtown. As such, the Crescent Design District calls for creating new street connections to create a grid pattern within this area, buildings located closer to the street with parking located behind the buildings, and staff-administered (as opposed to Board of Architectural Review approved) architectural design standards. This new district presents opportunities for greater densities, mix of uses and building heights than previously has been possible in this area of Leesburg.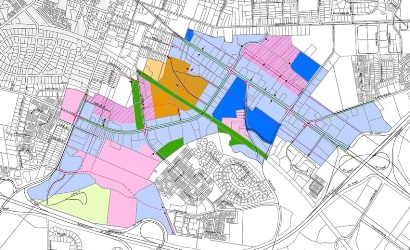 Link to Crescent District Vicinity Map with Legend
The Crescent Design District encompasses approximately 428 acres and its general location is along East Market Street, Catoctin Circle and South King Street north of the Route 7/15 Bypass. In order to assure consistent implementation of the provisions of the new zoning district, the Town also passed amendments to the Town Plan, the Design and Construction Standards Manual, the Subdivision and Land Development Regulations, as well as amendments to the H-1 and H-2 architectural control overlay districts, since the Crescent Design District overlaps those two districts. A map of the Crescent District and the ordinances and amendments can be reviewed on the Town of Leesburg website at http://www.leesburgva.gov/index.aspx?page=1692.
For more information on the foregoing bills, please contact Andrew A. Painter or Christine Gleckner of the Loudoun office if you are interested in learning more about this innovative planning and zoning effort in the Town of Leesburg.