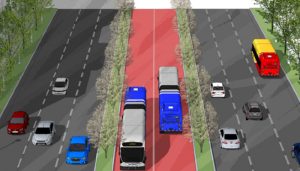 Most area residents are familiar with VDOT's plans to add express lanes to I-66, both "outside the beltway" and "inside the beltway," which also happen to be the names for VDOT's Transform 66 projects. Many may be aware that VDOT plans to widen Route 7 from four to six lanes between Reston Avenue and Jarret Valley Drive. And anyone traveling into or out of Dulles Airport can see that WMATA's Phase 2 extension of Metro's Silver Line is in full swing. But are you aware of the widening of Route 1 from I-495 south in Fairfax County, or other transportation projects that have the potential to provide significant relief from traffic congestion? If not, you need to find out.
Widening of Route 1 in Fairfax County
Embark Richmond Highway is Fairfax County's effort to provide a continuous corridor of six lanes from I-495 to the Prince William County line, with bus rapid transit (BRT) running in dedicated lanes down the middle of the highway. Nine BRT stations are currently proposed. The Fairfax County Comprehensive Plan proposes that the roadway, once widened, be 176 feet wide, with nine-foot-wide trails on both sides of the general purpose travel lanes.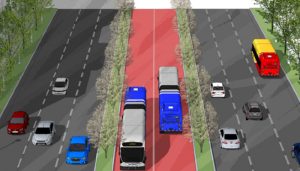 Implementing this plan will have significant trade-offs. Some existing businesses along the corridor may be displaced, and property owners may find their right of way significantly affected. On the other hand, the project has the potential to transform a suburban, auto-dependent area into an urban, transit-oriented corridor that may, at some point, include an extension of Metro's Yellow Line from the Huntington Station to Hybla Valley.
Community meetings are being held regularly regarding this effort. More information on the project can be found on Fairfax County's webpage here and here.
According to VDOT representatives, the widening of Route 1 will occur in phases, with the next widening phase likely occurring from Napper Road to Jeff Todd Way and a design public hearing possibly occurring in January 2018. More information on this road project can be found here.
Updates to the County's Comprehensive Plan sections devoted to the Richmond Highway are likely, which may include implementing a grid of streets along the heart of the transportation corridor. On October 20, NAIOP Northern Virginia is hosting a seminar focused on the Richmond Highway Corridor. Embark Richmond Highway advisory meetings are scheduled for October 24 and November 28. Community meetings will occur periodically until the Planning Commission and Board of Supervisors hold public hearings on a Comprehensive Plan Amendment focused on the Richmond Highway Corridor, presently scheduled for December 2017 and January 2018, respectively.
Widening of Route 1 in Prince William County
Prince William County is about to undertake the next phase of its ongoing efforts to improve the functionality of Route 1 in the County. The section of Route 1 between Featherstone Road and Marys Way will be widened from four to six lanes, with a 10-foot shared-use path on the west side of Route 1, and a five-foot sidewalk on the east side. This project also includes placing all utilities underground, similar to Prince William County's contribution to VDOT's Route 1 widening project from Marys Way to Annapolis Way, where the County contributed the funds for the undergrounding of utilities.
It is anticipated that final design will be complete this fall. This project will also significantly affect the right of way of local businesses and property owners. Utility relocation is scheduled to begin in the winter of 2017, with the project completion date scheduled for the summer of 2021. Presently, there is no corresponding planning effort underway by Prince William County to help capitalize on the significant infrastructure improvements associated with the widening of Route 1, although the Comprehensive Plan has for some time contemplated redevelopment within certain sections of the Route 1 corridor.
Braddock Road in Fairfax County
Fairfax County is in the midst of the Braddock Road Multimodal Study, and a volunteer task force is working with the Fairfax County Department of Transportation staff and the engineering firm RK&K to compile a list of recommendations for improving Braddock Road from I-495 to Guinea Road. Various intersection improvements are under consideration, as is widening Braddock Road from Burke Lake Road to I-495 by adding two HOV lanes serving as HOV lanes, as well as widening Braddock Road from four to six lanes from Burke Lake Road to Guinea Road. Also under consideration is the construction of a transit center along the corridor, with one possible location being near the Kings Park Shopping Center.
The task force is scheduled to complete its work in June 2017 and make a recommendation to the Board of Supervisors on how to proceed with the project. Approximately $60 million is available for the project which, according to FCDOT staff, is sufficient for final design and construction. Further information on this project can be found here.
I-95/Courthouse Road Interchange
This fall, VDOT will award the design/build contract for the implementation of a divergent diamond interchange for I-95/Courthouse Road in Stafford County. The project also includes widening Courthouse Road to four lanes from Route 1 to I-95, and then from I-95 west to Ramoth Church Road. This interchange project has undergone many designs, has had funding reduced and then restored, but finally appears to be moving forward. This interchange represents the second project in Northern Virginia where a divergent diamond will be constructed, the first being the Route 15/I-66 interchange in Haymarket. If you are curious how traffic moves through a divergent diamond interchange, you can watch a YouTube simulation of the one in Louisa County here.
Aside from the novelty of the interchange design, this project is important for the Courthouse area of Stafford County because the specter of an unfunded interchange has suppressed private investment in the area for years. Over the past several years, Stafford County has adopted several iterations of Comprehensive Plan recommendations for the Courthouse area, with the latest version adopted on April 27, 2016. With the interchange project implementing a functional road network for the Courthouse Road corridor, it is possible that redevelopment in the area may finally move forward, especially between I-95 and Route 1. The acquisition of right of way for the widening of Courthouse Road to the west of I-95 is complete, but significant right-of-way acquisitions will occur for the interchange project, with negotiations already underway with some landowners and businesses. This project represents another example of significant effects on right of way in the pursuit of improved transportation infrastructure.
D.C. to Richmond Southeast High Speed Rail
The Virginia Department of Rail and Public Transportation is in the middle of a multi-year study as a part of the Southeast High Speed Rail Corridor project, which seeks to improve passenger rail service between Washington, D.C., and Atlanta and all the major metropolitan areas in between. The project is broken into segments, with each state's designated transportation agency undertaking the National Environmental Policy Act studies required prior to moving forward with implementation.
The Tier II Environmental Impact Statement is underway for the D.C.-to-Richmond segment of the project, with a record of decision anticipated in 2017. The project seeks to add capacity within the existing CSX right of way by adding a third track within the D.C.-to-Richmond corridor where only two tracks exist.
The project's objective is to allow for intercity rail service that is competitive with air and auto options. In the D.C.-to-Richmond corridor, the maximum speed of trains will be 90 mph in some areas, which demonstrates that "high-speed rail" has a different definition when implemented in existing urban corridors as opposed to undeveloped countryside. But imagine humming along at even 60 mph on a Saturday afternoon in August headed south to Richmond, as opposed to 10 mph on I-95.
The Southeast High Speed Rail Corridor, including the segment from D.C. to Richmond, has the potential to increase travel and commerce between cities that presently rely mostly on autos for connectivity. Ideally, the cities that benefit from these projects will ensure that land-use policies around rail stations capitalize on the significant public funds necessary to implement the projects. You can learn more about the D.C.-to-Richmond portion of the Southeast High Speed Rail Corridor project by visiting dc2varail.com.
For more information regarding these projects or how to plan for projects like these that may affect your property or business, please contact Michael J. Coughlin, leader of the firm's Eminent Domain Practice Group, by email, or call 703-680-4664.