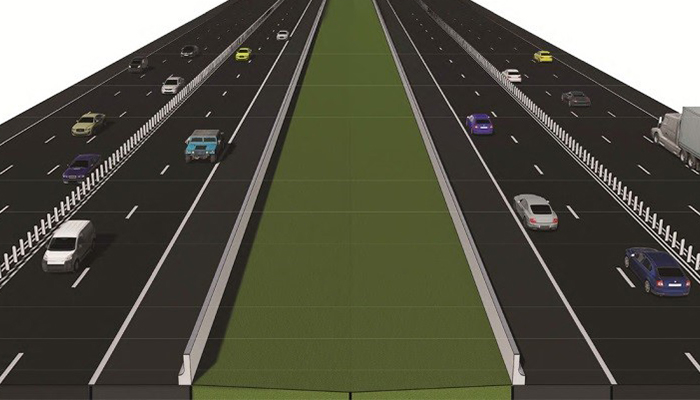 Virginia's commitment to transportation projects through dedicated sources of funding and the use of public-private partnerships has led to major transportation projects moving forward throughout the Commonwealth. In Northern Virginia in particular, the widening of I-66 from the Beltway to Gainesville is about to begin, the interchange at I-95 exit 140 in Stafford is being converted to a divergent diamond interchange, and segments of Route 1 in Prince William and Fairfax Counties will see significant changes. These and other projects, discussed below, will result in significant impacts to property owners and businesses in some instances, while providing redevelopment opportunities for others. What follows is a list of major projects by jurisdiction.
Fairfax and Prince William Counties
I-66 Outside the Beltway
This project involves widening I-66 from the Beltway (I-495) to University Boulevard in Gainesville. The project will result in two high-occupancy toll (HOT) lanes alongside three regular lanes in each direction, and a wide median to accommodate future transit options. Large park-and-ride facilities are also proposed. With Design Public Hearings held on November 13, 14, and 16, the project is able to move forward with right-of-way acquisition and construction in 2018. The comment period for the project remains open through November 29, 2017. Click here to learn more about the project.
Fairfax County
Route 7 Widening — Reston Avenue to Jarrett Valley Drive
VDOT will be widening almost seven miles of Route 7, taking the road from four to six lanes, and adding a 10-foot-wide shared use path on each side and noise walls in designated areas. The project is currently in the procurement phase, with a contract award anticipated in mid 2018. Right-of-way acquisition should begin at the end of 2018 or early 2019. The Firm hosted a meeting for affected landowners on June 1, 2017, at the Sheraton Tysons Hotel, and will likely host another meeting when the right-of-way acquisition process begins. Click here to learn more about the project.
Route 1/Richmond Highway — Jeff Todd Way to Napper Road
VDOT is in the design phase for the widening of Route 1 in order to accommodate not only six lanes, but also a median up to 58 feet wide in order to accommodate Bus Rapid Transit. Bicycle and pedestrian paths are also proposed on each side of the road. With a typical section that is approximately 178 feet wide, the project will have significant impacts to landowners and businesses. The second public information meeting was held on November 6, 2017. The Design Public Hearing should occur in mid 2018, with right-of-way acquisition and utility relocation beginning in the middle of 2019. Construction is not scheduled to begin until 2023. Click here to visit the VDOT project page.
The Firm hosted meetings about the project on June 14 and November 16, 2017, at the Mount Vernon Country Club, and will likely be hosting another meeting when the right-of-way process begins.
Fairfax County is actively involved not only in the design of the roadway improvements, but also in updating the County's Comprehensive Plan to ensure that land use policies are aligned with the upgraded transportation infrastructure.
Fairfax County's land use planning process for this area is called Embark Richmond Highway. A Planning Commission public hearing on the planning staff's recommendations is scheduled for January 25, 2018, at 7:30 p.m., and the Board of Supervisors public hearing is scheduled for March 20, 2018, at 4:00 p.m.
The planning effort seeks to encourage redevelopment along Route 1 and especially around the Bus Rapid Transit stations and the planned future Metrorail stations. Many existing landowners and businesses will be displaced by the project, while others will have redevelopment options available to them that currently do not exist. The challenge for stakeholders is the length of time this project will take to design and ultimately construct, which will likely delay actual construction of the transformative redevelopment projects Fairfax County would like to see in this area.
Prince William County
Route 1/Jefferson Davis Highway — Featherstone Road to Mary's Way
Prince William County has begun right-of-way acquisitions for this "missing link" of Route 1. Once completed in 2021, and following VDOT's completion in 2019 of its Route 1 widening project from Mary's Way to the Fairfax County line, Route 1 will be a six-lane roadway with all utilities underground from the Fairfax County line to Neabsco Mills Road.
Prince William County is also seeking to capitalize on the existing transportation infrastructure in North Woodbridge — the VRE station — and a wider Route 1. The County has begun the development of a small area plan for North Woodbridge, with stakeholder meetings ongoing. More information on the North Woodbridge Small Area Plan can be found here.
Stafford County
I-95 Exit 140/Courthouse Interchange
VDOT has begun right-of-way acquisition for the reconstruction of this interchange, which is being undertaken in conjunction with the widening of Courthouse Road from I-95 west to Ramoth Church Road. The interchange is designed as a divergent diamond, similar to the recently completed interchange of Route 15 and I-66 in Haymarket. Construction has already begun, and the entire project is scheduled to be completed in July 2020.
Courthouse Road east of I-95 will cease to be the main road into "downtown" Stafford as a result of this project, and a separate project will use existing Courthouse Road as a means of accessing the Express Lanes. A new extension of Hospital Center Boulevard will take drivers from the interchange all the way to Route 1 near Stafford Hospital. Visit the project's home page to learn more and to see graphics for the design of the improvements.
Building on the theme of aligning land use policies with transportation infrastructure, Stafford's recent update to its Comprehensive Plan included planning recommendations for areas near the interchange as well as what Stafford has designated "New Downtown," which is the area along Route 1 near its intersections with Hospital Center Boulevard and Courthouse Road.
Final Thoughts
With significant investments in transportation structure underway, accompanied by planning policies by localities seeking to capitalize on these investments, there will be costs and benefits to progress. Landowners and businesses affected by these projects bear the weight of progress, as they are many times left with less valuable property or nowhere to move their business.
The benefits of these investments will only be realized if localities approve in an efficient manner projects that implement realistic planning policies aligned with market realities.