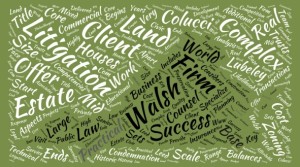 For more than a year now, our attorneys and planners have reported on real estate development, zoning and rezoning approvals, and sector plan updates for Arlington, Fairfax, Loudoun, Stafford, and Prince William Counties and the Cities of Alexandria, Falls Church, and Herndon, and on topics related to State and U.S. Supreme Court rulings and decisions on matters related to our practice areas. Here are some of this year's most popular posts.
In Statute Crafted from Koontz Decision to Remedy Unconstitutional Overreach, Shareholder John Foote explains the punch behind the brief but powerful statute prompted by the U.S. Supreme Court decision in Koontz v. St. James River Water Management District. The statute provides a remedy for a violation of federal constitutional law for a locality's imposition of an "unconstitutional condition" in the form of a mandatory dedication of real property or an exaction of money. These conditions can be a "taking" under the Fifth and Fourteenth Amendments.
Changes in Virginia Mechanic's Lien Law, writes Shareholder John Rinaldi in Virginia Supreme Court Hands Down Decision on Mechanic's Lien Claims, will affect both developers and contractors. Two of the changes are statutory; the other comes in the form of a decision handed down by the Supreme Court of Virginia. The Court's opinion does not announce any sweeping changes in Virginia Mechanic's Lien Law, but it does clarify numerous "gray areas" and issues that prior decisions regarding mechanic's liens have failed to address.
Jurisdictions throughout the Commonwealth of Virginia have various processes and requirements with respect to subdivision/easement deeds. In Subdivision/Easement Deeds: One Size Does Not Fit All, Shareholder Bryan Guidash explains that requirements for such deeds are fundamentally the same throughout the state but there are differences for each jurisdiction.
Shareholder Mike Kalish explains a non-prosecution agreement between Forrester Construction Company and the FBI and U.S. Attorney's Office in FBI and U.S. Attorney's Office Send Clear Message to Contractors. The construction company agreed to pay a hefty fine and serve as an example of the emblematic abuses that concern the District of Columbia's Certified Business Enterprise Program and the U.S. Small Business Administration's 8(a) Business Development Program.
Speaking with an attorney or accountant who is well-versed in tax law will help you make the right decisions for your business and personal real estate investments. Associate Chuck McWilliams, who happens to be both an attorney and CPA, provides examples and pointers to consider in Planning Lessons from the Real Estate Industry.
This past year, Governor Terry McAuliffe signed Senate Bill 1257, which eliminates the sunset provision of an important statute regarding timing of proffer payments. In Legislative Update: Collection of Cash Proffers on a Per-Unit Basis, Shareholder Pete Dolan and Associate Jonelle Cameron explain that without the bill, both Code Section 15.2-2303.1:1 and the 10% cap on administrative costs would have expired on July 1.
In Virginia, residential leases are governed by the Virginia Landlord Tenant Act, but Virginia law imposes few statutory requirements on commercial landlords. Shareholder Andy Burcher's article, Detailed Lease Provisions Trips Up Tysons Corner Landlord Causing Loss of Anchor Tenant, describes a case involving a 24-year-old lease with a co-tenancy provision that contained latent ambiguities. The Court's ruling, in favor of the tenant, provides a cautionary tale to both landlords and tenants when including specific examples in lease negotiations.
With the creation of the PPEA, Virginia leads the way in the formation of public-private partnerships, which have fostered projects including schools, fire stations, libraries, and performing arts centers. Virginia's Public-Private Education Facilities and Infrastructure Act of 2002 Can Be Used to Create Beneficial Partnerships, written by Shareholder John Foote, explains that since its inception, more than 150 projects have been conceived, financed, and built in Virginia.
Shareholder Andrew Painter provides a Planning & Zoning Legislative Update with his article, 2015 Virginia General Assembly Legislative Summary. He explains that although some of Governor Terry McAuliffe's key legislative efforts were rejected, Virginia legislators were able to balance, adopt, and sign the state budget without further amendments or vetoes. The 46-day session successfully concluded a day ahead of schedule.
Homebuilders in Virginia often waive statutory implied warranties and replace them with a limited builder warranty. In Is Your New Home Contract Implied Warranty Waiver Enforceable?, Shareholder Garth Wainman writes that if the waiver doesn't comply with Virginia Code §55-70.1, it could create problems for builders.
Every fall, founding Shareholder Art Walsh hosts an annual golf event to raise money for type 1 juvenile diabetes research. This September, the event raised $75,000 for JDRF, the leading global funder of T1D research, bringing the overall total the firm has donated over the past 18 years to $1.1 million. To learn more about JDRF visit jdrf.org. Click here to read the article and view team photos from the event.