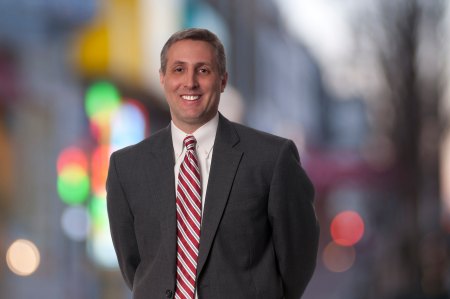 Andy joined WCL&W in 2006 as a shareholder and works primarily in the firm's Litigation and Commercial Business Transactions practice groups. Andy's practice focuses on general commercial law including complex commercial litigation, commercial transactions, creditor bankruptcy representation, and general corporate matters. He has extensive experience in both the federal and state courts in Virginia, including bankruptcy court, for both bench and jury trials.
In addition to his legal practice, Andy proudly serves as a Captain in the United States Navy Reserve and is serving in his third command tour of a submarine reserve unit in Washington, D.C.
Representative Experience
Wetlands America Trust v. White Cloud Nine Ventures, LP, (Virginia Supreme Court 2016)
Birchwood-Manassas Associates, L.L.C. v. Birchwood at Oak Knoll Farm, L.L.C. (Virginia Supreme Court 2015)
Wilson v. Notre Dame Academy, Inc. (Loudoun County Circuit Court 2009). Successfully defended non-profit corporate board in action by departed board member concerning claims of ultra-vires acts.
Sun Yung Lee v. Zom Clarendon, L.P., 665 F. Supp. 2d 603 (E.D. Va. 2009). Successfully defended corporate developer related to claims concerning express, implied and prescriptive easements in Arlington, Virginia.
Mayberry v. Battles, 2010 U.S. App. LEXIS 10392 (E.D. Va. 2008). Successfully defended former Secretary of the Navy in Qui Tam Action.
Galaxy Computer Serv., Inc. v. Baker et al. (E.D. Va. 2005). Part of a multi-party defense team that successfully defended corporate officers in a multimillion-dollar business torts case before a jury in the Eastern District of Virginia.
Feddeman v. Langan & Associates, 530 S.E.2d 668 (Va. 2000). Part of a litigation team that won a $3.5 million jury verdict for breach of fiduciary duty and civil conspiracy to injure business. Had the jury verdict reinstated on appeal to the Virginia Supreme Court.
Additional Reported Cases
United States ex rel. Aarow Equip. & Servs. v. Travelers Cas. & Sur. Co. of America, 2010 U.S. Dist. Lexis 24042.
Protestant Episcopal Church v. Truro Church, 280 Va. 6 (2010).
In re Multi-Circuit Episcopal Church Prop. Litig., 76 Va. Cir. 785, 873, 884, 894, 947, 960, 976 (Fairfax 2008).
Shirey v. City of Alexandria, 2000 U.S. App. LEXIS 21236.
Professional Recognition
AV rated by Martindale-Hubbell (highest rating)
Publications and Presentations
Price v. Human, Inc., and O'Neil v. Aetna, Inc., RICO News, Vol. 1, Iss. 2, Winter 1999, ABA Section of Antitrust law.
Casenote, Religious Tech. Ctr. v. Netcom On-Line Communications, Inc.: Internet Service Providers: The Knowledge Standard for Contributory Copyright Infringement and The Fair Use Defense, 3 Rich. J.L. Tech. 5 (1997).
Community Involvement
Alexandria Bar Association, President, 2007

Alexandria Small Business Development Center, General Counsel, 2003–07

Alexandria Chamber of Commerce, General Counsel, 2003–06
Military Service
Captain, U.S. Navy Reserve
Practice Areas
Commercial Business Transactions
Education
University of Richmond, T.C. Williams School of Law, J.D., 1997
Rensselaer Polytechnic Institute, MBA, 1995
United States Naval Academy, 1988
Professional Membership
Alexandria Bar Association
Prince William County Bar Association
Virginia State Bar Association
Admitted to Practice in:
Virginia
U.S. Court of Appeals, Fourth Circuit
U.S. District Court, Eastern District of Virginia
U.S. Bankruptcy Court, Eastern District of Virginia
District of Columbia
U.S. District Court, District of Columbia
U.S. District Court, District of Columbia