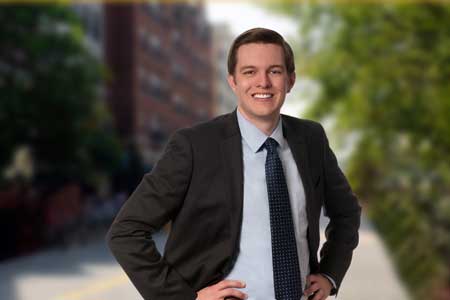 A native of Northern Virginia, Matt assists property owners and developers in zoning, subdivision, eminent domain, and other land use disputes in state and federal courts in Virginia. He also represents lenders, developers, and property owners in title, easement, and alley disputes; landlord/tenant conflicts; and issues involving complex real estate transactions. In addition, Matt assists clients in obtaining administrative approvals, appealing administrative decisions, trusts and estates litigation, and drafting documents for the acquisition, finance, and sale of real property.
Matt has presented to the Northern Virginia Building Industry Association's U40 Future Leaders Council, the Virginia Association for Legal Professionals, and at multiple continuing legal education seminars.
Prior to joining WCL&W's Prince William Office, Matt worked in the Real Estate Transaction and Commercial Business Transaction Practice Groups in Arlington assisting in the preparation of documents for the acquisition, finance, sale, and development of real property. While in law school, he completed a judicial externship for the Honorable William W. Caldwell of the United States District Court for the Middle District of Pennsylvania and was published in the Penn State Law Review.
Representative Experience
Successfully defended a lender and property owner in a multi-day trial against a previous property owner's claim that his signature on a deed conveying the property was forged.
Successfully defended a judicial challenge to the approval of a special use permit authorizing a bed and breakfast brought by a group of neighbors.
Successfully defended a lender's first priority lien position against a claim made by a subordinate lienholder.
Successfully defended a property owner against title claims and tort claims made by a prior owner of the property.
Successfully obtained approval of a Virginia ABC permit despite a legal challenge brought by a group of neighbors.
Assisted in obtaining a judicial declaration vacating an easement in a case involving more than 675 parties.
Assisted in a successful appeal to the Virginia Supreme Court reversing several notices of violation against a non-profit counseling center in the City of Fairfax.
Assisted in the successful defense of a challenge to a $2,925,000 deficiency judgment following the foreclosure of a parcel of real property.
Publications and Presentations
"Real Estate Law from Contract to Closing," VALS, Richmond, Virginia (September 20, 2014).
"2013–2014 Virginia Real Estate Case Law Update," CLE, Vienna, Virginia (June 17, 2014).
"2012–2013 Virginia Case Law Update," CLE, Vienna, Virginia (June 26, 2013).
"10 Rules of Virginia Land Use Law You Must Know," Northern Virginia Building Industry Association, U40 Future Leaders, Fairfax, Virginia (June 5, 2013).

The Breaking Point: Examining the Potential Liability of Maple Baseball Bat Manufacturers for Injuries Caused by Broken Maple Baseball Bats

, 115 Penn St. L. Rev. 517 (Fall 2010).
Practice Areas
Eminent Domain
Education
The Dickinson School of Law of the Pennsylvania State University, J.D., magna cum laude, 2011
Woolsack Honor Society The Penn State Law Review, Articles Editor
Joseph Parker McKeehan Award for exemplary service and academic achievement
York College of Pennsylvania, B.A., cum laude, 2007
Professional Membership
American Bar Association
Virginia Bar Association
Admitted to Practice in:
Virginia