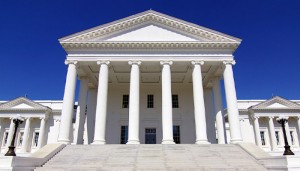 The Virginia General Assembly concluded its 60-day 2016 session one day early, passing more than 800 bills and approving a balanced $105 billion biennial budget. The budget includes $190 million for the Virginia Retirement System, a partial restoration of funding for the cost of competing adjustment for K–12 education, and a $50 million boost to keep Dulles International Airport competitive.
The budget also contains language requiring the Commonwealth Transportation Board to add a third eastbound travel lane on Interstate 66 between the Dulles Connector Road and the Glebe Road/Fairfax Drive exit.
Although the session represented a fresh start in some ways, the Senate's failure to reappoint interim Justice Jane Marum Roush to a full term on the Supreme Court of Virginia amplified a simmering partisan undercurrent that finally ended with the appointment of Virginia Court of Appeals Judge Stephen McCullough to the Court. The session was also notable for Governor McAuliffe's issuance of 32 vetoes—the most issued since 1998—on legislation mainly pertaining to social issues; none were overridden by the legislature.
Economic development proved a major issue throughout the session, and the General Assembly passed a $35 million business-led effort to encourage private-sector growth and job creation known as "Go Virginia." The initiative establishes the new Virginia Growth and Opportunity Board, which will offer competitively awarded grants for economic development, research, and workforce training projects across the commonwealth.
Though there was not the quantity of land-use legislation that has often dominated previous sessions, several bills were somewhat significant to the development industry.  Most important was SB 549 (colloquially referred to as the "Proffer Reform Bill"), which arguably represents the most sweeping change to Virginia's unique proffer system since it was created in 1974.  The Proffer Bill was the subject of heated debate. A detailed summary of its contents by WCL&W Shareholder John Foote appeared in April's issue of Virginia's Land Sense, found here.  A diagram of the legislation can be found here.
The General Assembly also passed land-use legislation related to land bank authorities (HB 268), the extension of protections for non-conforming business owners that are the subject of zoning violations (HB 367), and a prohibition of the establishment of new farm wineries and breweries in Fairfax County's "Residential Conservation" zoning district (HB 879). Telecommunications towers are now automatically deemed to be in conformance with a locality's master plan where they are permitted by right (HB 883), and the Virginia Housing Commission will create a working group to review short-term rentals in residential areas (SB 416).
Also of note, any locality with a tree ordinance may adopt provisions allowing it to post signs on private property proposed to be redeveloped with a single-family home informing neighbors that an application for a grading plan to develop a single-family home has been filed (SB 361).
A summary of land-use and real estate industry–related legislation may be found here.