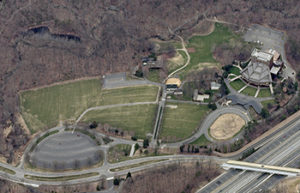 Location:
Fairfax, Virginia
Services:
Eminent Domain
Wolf Trap Foundation for the Performing Arts, Inc. sought to obtain the maximum amount of just compensation for VDOT's taking of 1.5 acres of Wolf Trap's land from a 4.97 acre wooded lot for the construction of a traction power substation associated with development of the Metrorail's Silver Line. Wolf Trap hired WCL&W's eminent domain practice group led by Michael J. Coughlin based on a previous and successful zoning entitlement relationship with the firm. WCL&W assembled a team of expert witnesses to help build the case that Wolf Trap's 4.97 acre property had a highest and best use as an "estate lot" suitable for a large residence before the taking. WCL&W also worked with an expert appraiser and engineer to understand the impact of the taking on the property's development potential and value. Based on these expert's findings, WCL&W advanced a theory and valuation based on the remaining property being a "problem lot" that was no longer suitable for residential development because of the property's post-taking configuration and the location of the unsightly power substation. After settlement discussions with VDOT's attorney were unsuccessful, WCL&W tried the case for three days in Fairfax Circuit Court in front of a jury, utilizing TrialDirector® software for the presentation of exhibits. Success was achieved when a jury awarded a total of $603,000 in just compensation to Wolf Trap, which included $308,621 in damages, and which was well above VDOT's original just compensation offer of $321,937. WCL&W worked efficiently with the team of experts to control costs. The distribution of the final award resulted in a sizeable "net gain" for Wolf Trap because of WCL&W's efforts. 
Wolf Trap Property—During VDOT Construction
DISCLAIMER: THE RESULTS OF ANY LEGAL ACTION DEPEND UPON FACTS UNIQUE TO EACH CASE. NEITHER WALSH, COLUCCI, LUBELEY & WALSH, P.C. NOR ITS ATTORNEYS GUARANTEE OR PREDICT SIMILAR RESULTS IN ANY FUTURE CASE UNDERTAKEN BY THE FIRM OR ANY OF ITS ATTORNEYS.
← Case Studies