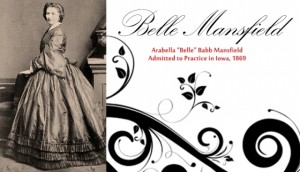 This month, the firm would like to acknowledge all the women who have broken through barriers, achieved their goals, and created pathways for future generations of women. To do this, we are paying a special tribute to Arabella "Belle" Babb Mansfield, the first female attorney admitted to the legal profession in the United States. We are also including quotes from a few women Land Lawyers expressing what interested them in a career in the law.
Born in 1846 on her family's farm in Burlington, Iowa, Belle Mansfield taught English, history, and political science at Simpson College before returning home to marry her college sweetheart, John Melvin Mansfield. John, a professor of natural history at Iowa Wesleyan University, where they met, supported Belle's ambition to study law even though women were prohibited from sitting for the bar exam.
Belle had been introduced to the legal profession by her older brother, Washington. After he passed the bar exam, Belle went to work in his law office as an apprentice, reading about and studying the law. In 1869, along with her husband, she was permitted to take the bar exam and passed with high marks. Abajournal.com quotes her examiners as stating, "Your committee takes unusual pleasure in recommending the admission of Mrs. Mansfield, not only because she is the first lady who has applied for this authority in the state, but because in her examination she has given the very best rebuke possible to the imputation that ladies cannot qualify for the practice of law."
That same year, the Iowa state legislature struck gender-specific language from the admissions statute allowing Belle to be admitted to the bar. Although she never practiced, Belle continued to teach and focused her legal energies on women's rights. She was an active suffragette, working arm in arm with Susan B. Anthony, and chaired the Iowa Women's Suffrage Convention in 1870. Belle died in 1911, nine years before passage of the Nineteenth Amendment giving women the right to vote and 70 years before President Ronald Reagan appointed Sandra Day O'Connor to the U.S. Supreme Court.
Click here to learn more about Women's History Month and here to learn about American women in the law. We asked the women in our office what attracted them to a career in the law and here's what some of them said.
I was at home watching "Oprah" with my grandmother one afternoon after school. The show's topic was child abuse. Sometime during the show I turned to my grandmother and told her I wanted to be an advocate for children. That was my goal. After I took a class in family law, I realized how hard it would be to keep my emotions in check. It was during an externship at the District of Columbia Housing Authority that I became interested in real estate and that's how I became a Land Lawyer.
Jonelle Cameron, Associate, Land Use & Zoning, Prince William
I had a keen interest in government and the performing arts (musical theater in particular) all throughout high school and undergraduate school. I find that trial work combines elements of both procedure and theater, and a successful litigator demonstrates talent with both aspects. I also enjoy the process of putting all of the pieces of each case together and recognizing which of the pieces are the keys to telling a persuasive story and reaching a successful outcome.     
Wendy Alexander, Shareholder, Litigation, Prince William
After completing my undergraduate studies at Georgetown, I was at a turning point in my life. I did not know exactly what I wanted to do, but I thought a law degree would provide a good foundation for any career. When I told a male friend that I was thinking about going to law school, he asked, "Why would you want to be a lawyer?" Because I can, I thought, and I did. My family has been involved in the construction and land development industry dating back to the late 19th century in Texas. During my third year at George Mason School of Law, I was selected for an Honors Intern position at HUD and from then on I was a real estate attorney.
Erin Thiebert, Associate, Land Use and Zoning, Real Estate Transactions, and Commercial Business Transactions, Prince William
By clicking on these links, Nan Walsh, Lynne Strobel, Cathy Puskar, Wendy Alexander, Kathleen Smith, Antonia Miller, Jonelle Cameron, and Erin Thiebert, you can learn more about all of our women Land Lawyers and their influence on Northern Virginia real estate, zoning, and land use.